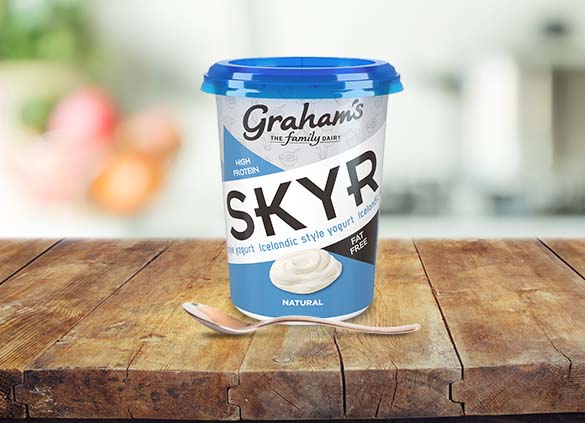 Natural, high protein, fat-free SKYR. Prepared from the freshest milk from our 100 farming partners and the perfect breakfast or snack topped with berries, granola or honey!
"Here at Graham's The Family Dairy we're always looking for new ideas for your family. Which is why we're so excited about SKYR Icelandic style yogurts. Made from pure Scottish milk, live cultures and carefully sourced fruit, they're fat free, high in protein and 30% less sugar than other flavoured yogurts. Extraordinarily tasty and in a variety of flavours: natural, strawberry, lemon, baked apple, honey and passion fruit, mango & papaya. Inspired by the purity of Scotland and the freshness of Iceland, they're the perfect choice for your family for breakfast, snacks, lunch and supper".
Did you know we also deliver?
Home Delivery
Typical Nutritional Composition per 100g
| | |
| --- | --- |
| Energy | 276 kJ/ 65 kcal |
| Fat | 0.1g |
| of which saturates | 0.1g |
| Carbohydrate | 3.7g |
| of which sugars | 3.7g |
| Protein | 12.2g |
| Salt | 0.1g |
Stockists