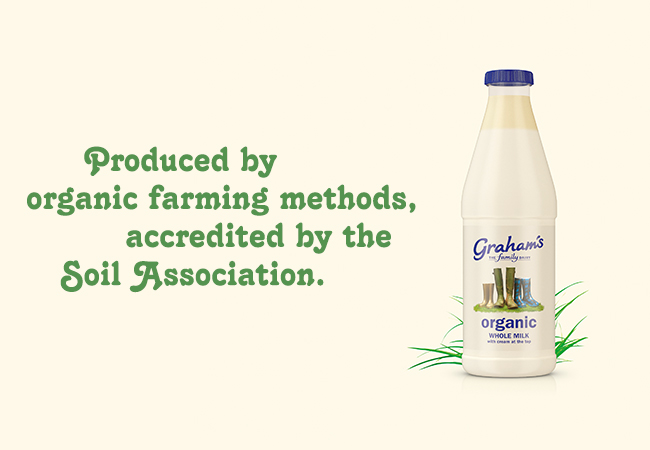 Like us, when you're walking around the supermarket you probably want to feel informed about the products you're putting into your basket. That way you can be confident you're making the right choices for you and your family. Giving our customers a choice is very important to us and that's why we're very proud to offer our Organic range, which includes milk, cream and butter.
What does 'organic' refer to?
All of the farms supplying Graham's The Family Dairy adhere to the UK Government's Red Tractor standards, but our organic farms go a step further. They adhere to the principles of organic farming, meaning that the grass which the cows graze on has not been treated with any chemicals. Any additional feed provided has been certified as organic and does not contain any artificial additives.
What are the cows producing our Organic range fed on?
The cows on our organic farms are grass-fed for most of the year then grain-fed during the winter months, when grass is sparser. Incidentally, this feeding pattern is also true for our non-organic cows.
During the winter the cows are fed a silage mixture, made up mainly of cut/fermented grass collected in the summer but with grains also added to bulk it up.  On our organic farms the silage mixture is certified organic and any grains added to it are also organic.
How can you feel reassured that 'organic' produce really is what it says?
At Graham's, the status of our organic farms is accredited by the Soil Association. The Soil Association is the UK's leading membership charity campaigning for healthy, humane and sustainable food, farming and land use.
Some of the regulations adhered to in attaining that accreditation from the Soil Association include:
Animal feed cannot contain genetically modified (GM) crops.
No routine or preventative use of antibiotics on cattle.
Cows cannot spend more than one-fifth of their lifetime indoors.
Animal feed must be 100% organic, with at least 60% of the cows' diet consisting of fodder, roughage and silage.
Does going organic mean having to choose from a smaller range of products?
People who make specific dietary choices can sometimes feel restricted by the product range available to them. At Graham's we think that customers who prefer to buy organic should also have the same level of choice as our other customers. That's why our Organic range includes skimmed, semi-skimmed and whole milk, Organic Double Cream, Slightly Salted Butter, Unsalted Butter and Organic Spreadable Butters. We've also recently introduced a non-homogenised Organic Whole Milk; for those who like the goodness of organic but want a little indulgence with cream at the top.
It's never been easier to go organic!