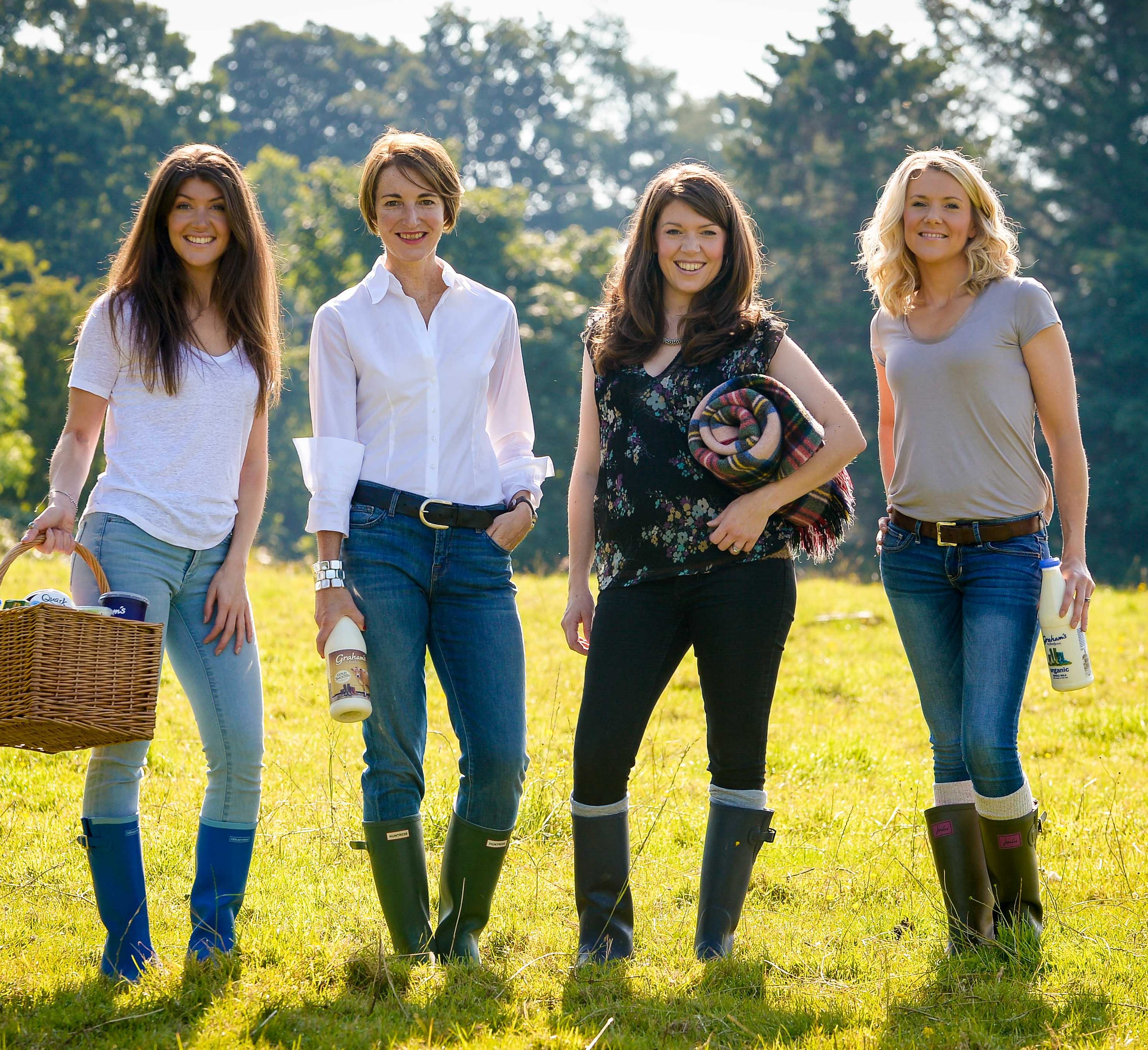 Graham's The Family Dairy today, 18 August, announce an exciting new partnership with Three Sisters Bake – the entrepreneurial, food-loving siblings who have found success with their cookbook, catering company and cafes in central Scotland.
The partnership will bring the two Scottish family businesses together to create inspiring, bespoke recipes using Graham's award winning product range*.
In their first activity as Graham's ambassadors, the sisters – Gillian, Nichola and Linsey Reith – filmed a series of short video clips at the family kitchen in Bridge of Allan, putting their famous baking skills to work with exclusive recipes for the family dairy's website.  
The videos will be live on the Graham's website, YouTube and social channels from 29th August, with new ones posted fortnightly.  Recipes will include both sweet and savoury options, with everything from an indulgent blueberry and lime cake (made with Graham's Vanilla Quark), to fresh and flavoursome fish tacos on the menu.
With two busy café-craft boutiques in Quarrier's Village and Killearn, a cookbook and a thriving wedding and catering business, Three Sisters Bake have become – like Graham's – a Scottish success story.  
Graham's are family owned, with a commitment to high quality, fresh products with a strong local provenance.  Bridge of Allan based Graham's goes back three generations of dairy farmers, and now works with 100 farmers to provide a range that includes milk, cream, butter, cheese, yogurt, quark and ice cream.
Carol Graham, Marketing Director at Graham's the Family Dairy, said: "We're big fans of Three Sister's Bake and were delighted to welcome them to our kitchen, where they created some wonderful dishes using a host of farm fresh products. Like us, they offer something for all occasions, from sumptuous cream cakes, to healthy, light lunches and we're confident their new recipes – created especially for Graham's – will be a real treat."
Gillian Reith, of Big Sister at Three Sisters Bake said: "We use quality Scottish ingredients in our food whenever we can, and were already using Graham's milk and butter when we decided to work together.  Our love of baking is what motivated us to start Three Sisters Bake, and it's been easy to find inspiration in the Graham's range. We love experimenting in the kitchen and hope that people enjoy making and eating these new dishes as much as we did creating them."
Three Sisters Bake join a number of talented Graham's partners, including renowned celebrity chef Nick Nairn, restaurant entrepreneur Carina Contini and Great British Bake Off contestants Flora Shedden and James Morton.
For more information, please contact Kirstin Stevenson or Fiona Hayes of Wire Media on 0141 648 9610 or email kirstin@wire-media.co.uk or fiona@wire-media.co.uk.
About Graham's The Family Dairy
From their family farm in the heart of Scotland, the award-winning business has grown through three generations of dairy farmers to become one of Scotland's greatest food and drink successes, since setting up in Bridge of Allan in 1939.
Graham's The Family Dairy is Scotland's largest independent dairy producing an award winning range of milk, butter, cream, ice cream and cheese as well as the Graham's Gold Jersey range, a new non-homogenised Organic Whole Milk and the recently launched Quark.
Graham's products are available the length and breadth of the country via more than 6,000 customers from independent retailers to hotels and restaurants as well as all the major supermarkets in Scotland, and some south of the border.
Graham's was named number 1 dairy brand in Scotland and number 3 Scottish brand overall in the Kantar WorldView Panel Research in 2015.
*In June 2016, Graham's won the Best Dairy Product Award for their spreadable butter and were crowned Brand Success of the Year at the prestigious Scotland Food and Drink Awards.
The dairy works with 100 farming partners across Scotland.