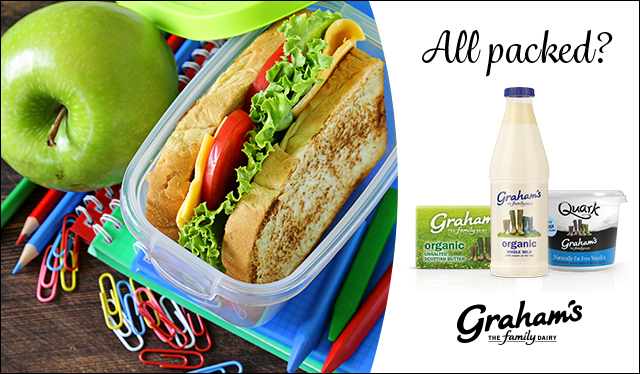 Yep, it's that time of year again. Shiny new schoolbags, stationery, gym shoes and of course the obligatory one-size-up uniform in anticipation of this year's growth spurt. They're officially going back to school. If you've been eaten out of house and home this summer you might be wondering what to do to keep them happy, healthy and able to concentrate while they're in the classroom. Well, we've put together a few hints, tips and ideas to help them make the most out of their school days. Read on to find out more!
A playpiece to be proud of 
Most of us look forward to our elevenses, and kids are no different. They might seem like they have boundless energy sometimes but it's so important to make sure they're fuelled up for both working and playing at school. This recipe for cheese scones is great, something that's tasty, healthy and can be easily slipped into a packed-lunch box for a playtime snack. They're so easy to whip up as well. Why not experiment with our range of various cheddars to get this wholesome cheesy snack just right for your wee ones? (Pro-tip; these are great for adults too, so don't forget to count yourself in while you're measuring out ingredients!)
For something a little sweeter…
Flapjacks are an excellent way to keep your kids 'sweet' without them reaching for those sugary snacks that'll spike their energy and then leave them tired and grumpy. This protein-packed recipe is a great start for anyone looking to try out this slow-release snack. Don't be scared to try out new combinations as well, mix it up a bit according to your child's tastes. They go great with a glass of milk too of course!
One for the fruit fans
These fruit salads by Nick Nairn are great fun and so simple to make. They're great for a healthy breakfast, but why not use some spare jam jars so they can be taken to school too? Just choose your favourite fruit, grab some Graham's yogurt or Quark – you can even add some granola if you're feeling fancy. They're so easy to throw together, it's easy to get your 'little helpers' involved while you're making them. Customising them can be a fun way of getting the kids involved and engaged with what they're eating.
Snack-spiration
If you're looking for something a little different from the back to school snacks we've suggested then you might want to try searching for ideas on Pinterest. Not just for It's a great place for sharing art, photography and ideas it's also great for inspiration in the kitchen. Have a play around and see what you find! And if you find anything good do let us know – as all parents will be well aware; you can never have too many snack ideas!