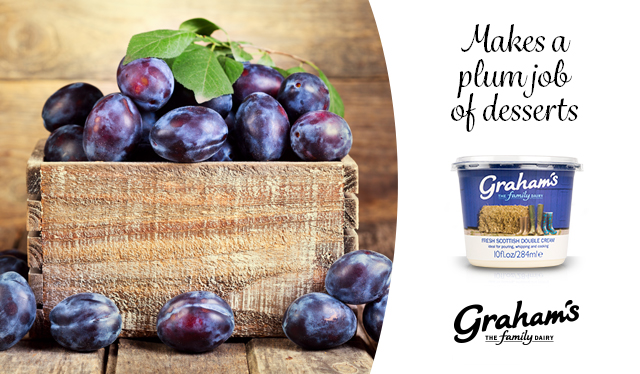 We sometimes feel that you don't hear enough about plums. When people talk about fruit 'superfoods' they're usually mentioning berries. However, plums have a proud history and are grown across the globe (Antarctica is the only continent where you won't find a plum tree). Even if you don't take into account their relatively low calorific content (46 calories per 100g) and high Vitamin C content, the simple fact is that they're delicious.
We've got some great plum recipes on our website so we thought that we'd compile them here so that you can find the right one for you. Though you might find that they're all right for you!
James Morton's Apple and Plum Tartlets
How can you make plums even tastier? By combining them with some other delicious fruit, of course. Great British Bake Off star James Morton knows all about getting the most flavour out of his ingredients and his pairing of apples and plums in these tartlets is lip-smackingly good.
This recipe is also perfect for making use of plums that might still be a little on the firm and under-ripe side. Sometimes good things come to those who don't wait.
Don't be put off by the presence of puff pastry in this recipe either. We all know the flaky stuff can make for a daunting kitchen task but there's nothing wrong with opening a pre-made packet. Of course, if you are confident enough to make your own then go for it.
Try James's Apple and Plum Tartlets recipe.
James Morton's Plum Turnovers
Once James has found a winning combination like plums and puff pastry then he runs with it. If you find the tartlets recipe a little daunting then these turnovers are the ideal way to start your baking adventures.  In fact, this recipe is so similar that James points out you don't even need to de-stone your plums because the stone will naturally rise to the top while the fruit is being stewed.
Start your baking love affair with James's Plum Turnovers recipe.
James Morton's Plum Muffins
Who doesn't love a muffin? Blueberry muffins, chocolate chip muffins, raspberry and white chocolate muffins… all muffins! But how often have you had a plum muffin? Never? Well it's time to change that and plum-devotee James Morton is just the man to make it happen.
His plum muffins recipe even takes into account the impact that the acidity of the plums would have on a standard muffin mixture and adapts it accordingly.
Nuffin' should stop you trying James's Plum Muffins recipe.