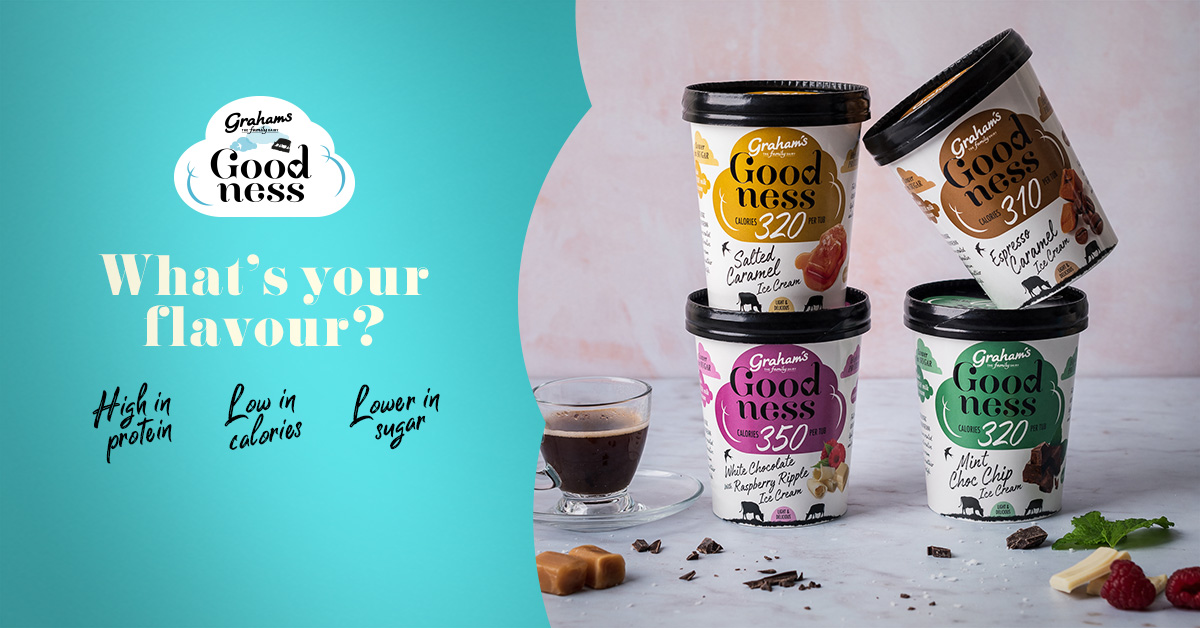 Graham's The Family Dairy is today introducing its new Goodness Ice Cream range. A deliciously indulgent high protein ice cream, lower in sugar, as well as a good source of fibre – all from only 310 calories per tub!
Made with award-winning Scottish milk and cream from over 100 farming partners, Graham's latest ice-cream range has over 20g of protein in each tub and only a quarter of the calories than other ice creams – with absolutely no compromise on taste. 
Graham's Goodness Ice Cream will be available in Lidl stores across the UK from the beginning of March in two wonderful mouth-watering flavours; White Chocolate with Raspberry Ripple and Salted Caramel. The range has a variety of other delicious flavours including, Espresso Caramel, Mint Choc Chip and Chocolate Dulce de Leche.
Maintain a balanced and healthy daily lifestyle with this rich and tremendously tasty treat. Every spoonful of Graham's Dairy Goodness ice cream will now be a guilt free pleasure.
Robert Graham, Managing Director of Graham's the Family Dairy, said: "Our Goodness range of ice cream is a perfect compliment to all our latest high protein dairy products due to their natural, fresh ingredients created by a Scottish family business. By choosing our Goodness Ice Cream, you are choosing a tasty, healthier ice cream that is bursting with flavour and nutritional benefits.
Innovation and product development are something we pride ourselves on, so we will continue to create delicious and nutritional dairy products for our customers from all over Scotland, as well as the rest of the UK. We hope that our customers will be as excited about our new Goodness Ice Creams as we are".
Based in the heart of Scotland, Graham's The Family Dairy are a genuine family business, this year celebrating their 80th birthday. They continue to produce award-winning ranges including Gold, Organic, milk, butter, ice cream, cheese, yoghurt, cream, cottage cheese, soured cream, quark, Protein 22, Skyr, Protein 40 and now Goodness ice cream. 
For more information, please contact Ailsa Herd, Grahams The Family Dairy on T: 07827 816 722, E: Ailsa.Herd@grahamsfamilydairy.com 
#GrahamsGoodness