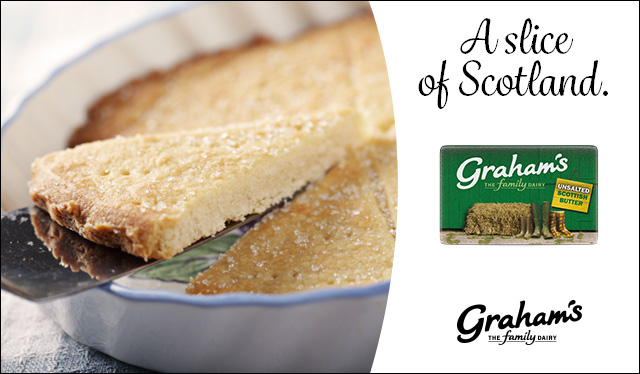 Dramatic scenery, incredible castles, world-renowned golf courses, the finest single malts… and even the odd bit of sunshine! Scotland's just a wee country, but its legacy is absolutely huge. That goes for its food and drink scene too. Scotland's got more than its share of Mitchelin-starred eateries for those with a taste for the finer things – not to mention its many age-old culinary traditions too. Haggis, Stornoway black pudding, Arbroath smokies… the list goes on. One Scottish favourite in particular has a very interesting history though, and that's what we're going to talk about today. That's right, it's our national equivalent to the after-dinner mint, the humble shortbread.
Origins of a classic 
Did you know that the first ever printed recipe for shortbread is thought to be from 1736? It was written by a Scotswoman named Mrs McLintock, however this sweet treat's story begins well before the 1700s. About a few hundred years before in fact, as the cake originally came from a twice-baked medieval biscuit bread which came dusted with sugar and even spices (depending on your social status). This basic incarnation of what we know today was what was known as a rusk, the recipe of which was eventually modified to include butter as the popularity of the ingredient was growing in Britain and Ireland.
The shape of things to come
Shortbread can come in all kinds of shapes and sizes, but there's a right royal reason behind why it's often served in triangle shaped wedges. Apparently it was none other than Mary Queen of Scots who helped refine the recipe and popularised this shape, even going as far as adding caraway seeds. There's one to add to your recipe if you're feeling fancy.
Party food!
If you live in Scotland or have been here for Hogmanay (the name we give our new year celebration) you might have been offered some shortbread while out 'first footing'. This tradition came about because the cake was viewed as a luxury and generally reserved for special occasions. Some regions even had their own variations. In Shetland for example, it's traditional to break shortbread over the head of a new bride on the threshold of her new home!
Bake your own
Has all this talk of shortbread made you want to head straight to the kitchen? Well if you fancy trying something new or even just a classic shortbread recipe, head over to our recipes section. We've got no less than four for you to try out; Lemon curd ice cream sundae with lavender shortbread, ultimate shortbread, golden shortbread bars and Alpine shortbread lemon curd with shortbread. A little something sweet for everyone! We even produce some of the ingredients you'll need. If you've got a shortbread tip of your own feel free to share with us on our social channels.