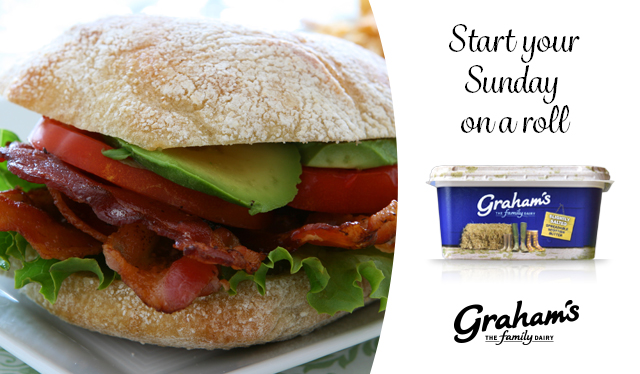 What's your favourite meal of the day? There was a time when that question just left you with a choice of breakfast, lunch and dinner. Thankfully, those days are behind us and at one time or another we've all found ourselves tucking into something tasty and comforting at a point that's not quite breakfast-time and not quite lunchtime either.
We've called this blog post our best Sunday brunch recipes, but really they'll taste just as good on any day that you find yourself with the time to enjoy them. In fact, they might taste even better on a weekday if you get the time to enjoy them!
So, here are a few our favourite brunch ideas from the Graham's website…
Cheese and Bacon Turnovers recipe by James Morton
Cheese? Check. Bacon? Check. Pastry? Check. You've got to hand it to Great British Bake Off star James Morton, he knows exactly the right brunch buttons to push. This isn't his only entry on this list but it's a deliciously strong opener.
Turn up for James Morton's Cheese and Bacon Turnovers recipe.
Scrambled Eggs and Smoked Salmon recipe by Carina Contini
Scrambled eggs and smoked salmon is a classic combination but the brilliance of Edinburgh chef and restaurateur Carina Contini raises it even further. The addition of our own Graham's double cream, as well as some fresh dill makes for a brunch option that manages to feel indulgent and virtuous at the same time.
Scramble to try Carina Contini's Scrambled Eggs and Smoked Salmon recipe.
Banana Pancakes recipe by James Morton
Brunch doesn't always seem like a meal designed to help you work towards your recommended fruit & veg intake but James Morton has found a way. These pancakes are made with banana! Yes, it can be done, now find out how.
Discover the a-peel of James Morton's Banana Pancakes recipe.
Chorizo Sausage Rolls recipe by James Morton
Chorizo is one of those delicious flavours that wasn't much known on these shores twenty or thirty years ago but has now become a firm favourite. James Morton has found a way to combine that delicious Iberian paprika punch with the classic sausage roll. A brilliant piece of fusion cuisine and a hearty brunch treat.
Morning Rolls recipe by James Morton
Of course, sometimes all you really want is a traditional Scottish morning roll with your choice of filling. Whether you're filling it with crispy bacon, a fried egg  or a slice of black pudding though, it's important that the roll itself is spot on. So why not treat yourself to super-fresh morning rolls by following James Morton's recipe?
Make it a magical morning with James Morton's Morning Rolls recipe.