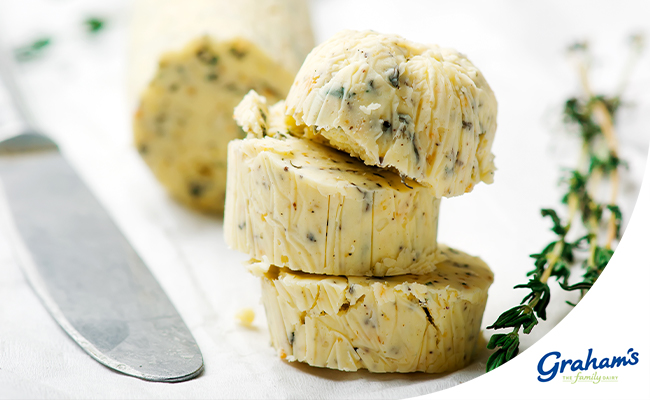 OK, we'll admit it. On the whole it's not always very easy to find ways to keep your food tasty whilst racking up a few 'health points'. It's a fact that we've kept in mind when creating products such as our Quark, Skyr, Protein 22 and Protein 40 milk. We're really proud to be able to offer this range of dairy products that help you bring a bit of balance into your life – but what about the rest of your diet? Well, we've put together a wee list of tips and tricks to help you make those delicious dishes healthy and the healthy ones delicious. 
Season your butter to use less
That familiar sizzle and aroma you get when a dollop of butter hits the frying pan is one of life's simple pleasures. If you're looking for a way to make your butter go a bit further in your cooking though, why not try seasoning it? Adding ingredients like salt, thyme, garlic lemon zest can really lift the flavour of so many different dishes. Just heat the butter in a saucepan, add your chosen seasoning when the butter starts to foam, take the pan off the heat and leave to cool, strain then refrigerate.
Sweeten naturally
As sweet as sugar is, we all know that having a diet that's too high in the stuff is not recommended. Sometimes though, we just need a snack or dessert that hits that sweet spot. If you want to cut down on your sugar intake but not sacrifice the flavour you've been looking forward to, try adding something naturally sweet. Fresh fruits, dried fruits and natural honey are all great for this, especially at breakfast.
Stay in season
You might get asparagus all year round in your local supermarket, but that doesn't mean it's in season and at optimum flavour! Picking the fruit and veg that's in season is going to taste much fresher and fuller than that which isn't. A quick search online can tell you exactly what's in at any given time of year. 
Use vinegar
If you're tired of reaching for the salt or adding extra butter to give your dish extra flavour, maybe stocking up on vinegar could be the answer. This one's a bit of chef secret, used to brighten up meals that just don't cut it. White wine vinegar is a nice delicate addition to fish, while red wine vinegar can really bring red meat to life. Balsamic too, makes a fantastic addition to soup when you're reluctant to add more salt.
Expand your repertoire
It can really pay to freshen up your weekly go-to dishes from time to time. Our recipe page is full of healthy (but tasty) ideas for you to try out! Good luck.