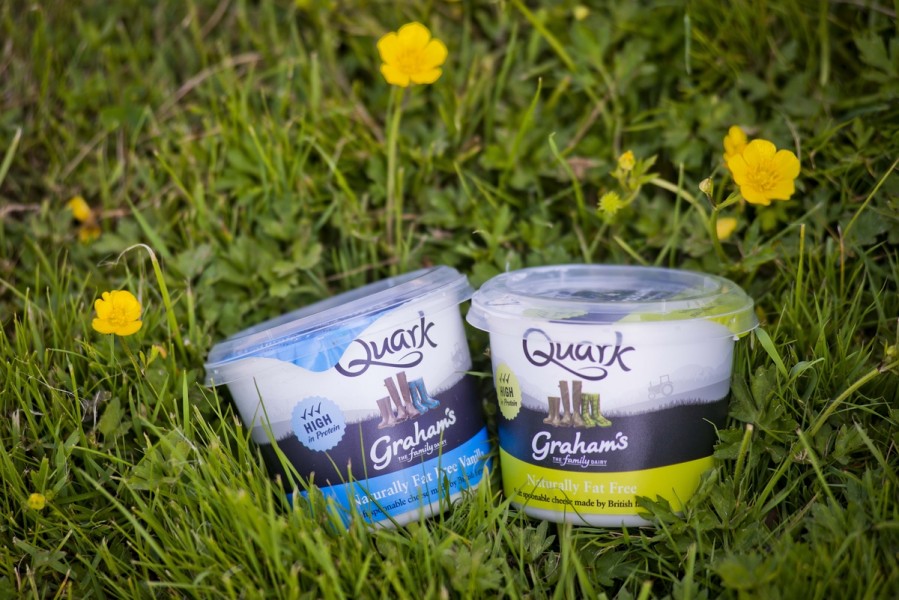 Mixed with granola, porridge or fruit, stirred through pasta or baked into scones, quark is the versatile soft cheese originally from the continent that is swiftly making its mark in the UK. It's delicious, nutritious and not naughty at all.
This June sees Scottish business, Graham's The Family Dairy, launch its exciting new natural and vanilla quark range across the UK. Made from the freshest milk, Graham's quark is hugely versatile and sees foodies, slimmers and people keen to eat a healthy balanced diet or simply try something new, experimenting with this fat-free, high protein soft cheese.
Graham's quark is smoother in texture than continental style quark, offering a delicious alternative to imported quark on the market. It is available in stores now – including Tesco, Sainsbury's, Morrisons, Ocado and Aldi UK-wide, plus Asda and Lidl in Scotland.
Celebrity chef Nick Nairn and Great British Bake-Off semi-finalist Flora Shedden have created a number of sweet and savoury recipes exclusively for Graham's, for those keen to experiment with this quark-y ingredient. 
Carol Graham, Marketing Director at Graham's The Family Dairy added: "Quark is a fantastic, versatile product that we've all been experimenting with – it's incredibly easy to swap it into existing recipes for the whole family. Dad now has it every morning with fruit and I've been stirring it into pasta. High quality, great tasting, local produce has always been at the heart of our range and our quark is no different."
"Quark is loved by slimmers due to the fact it's fat-free and can replace less innocent products in so many meals – and the slimmers in our office will testify to this – but it also appeals to people simply looking for naturally healthier, low fat, high protein options. The majority of quark on offer in the UK is imported from Germany but ours is made with the freshest of Scottish milk, is smoother and truly tastes fantastic. It's become part of the Graham's family diet, and we'd urge people new to quark to give it a try."
Based in the heart of Scotland Graham's are a genuine family business, stretching back 130 years, that produces an award-winning range including milk, butter, ice cream, cheese, yogurt and cream cottage cheese, soured cream and now quark. Their range is made from the freshest of milk from their 100 farming partners across Scotland and the north of England.
For more information, please contact Kirstin Stevenson or Eva Cook of Wire Media on 0141 648 9610 or email kirstin@wire-media.co.uk or eva.cook@wire-media.co.uk.
About Quark
Quark is a versatile, healthy and delicious spoonable soft cheese, available from Graham's in natural and vanilla flavours. Made from the freshest Scottish milk and combined with a special blend of live cultures, quark is:
100% natural
naturally fat free
high in protein
low in salt and sugar
Perfect for cooking, mixing and baking
Creamy without the extra calories
Easy to swap into your everyday recipes for all the family.
​Quark blends with sweet and savoury ingredients to create tasty healthier everyday family meals, from porridge and breakfast muffins, to macaroni and cheesecake – it's incredibly versatile.
Where you can buy Graham's Quark
Graham's quark will be available in a range of stores across the UK from this summer:
Tesco – 6th June (National, natural and vanilla)
Sainsbury's  – 6th June (National, vanilla only)
Morrisons – 6th June (National, natural only)
Asda – 27th June (Scotland stores, natural and vanilla)
Lidl – 27th June (Scotland stores, natural only)