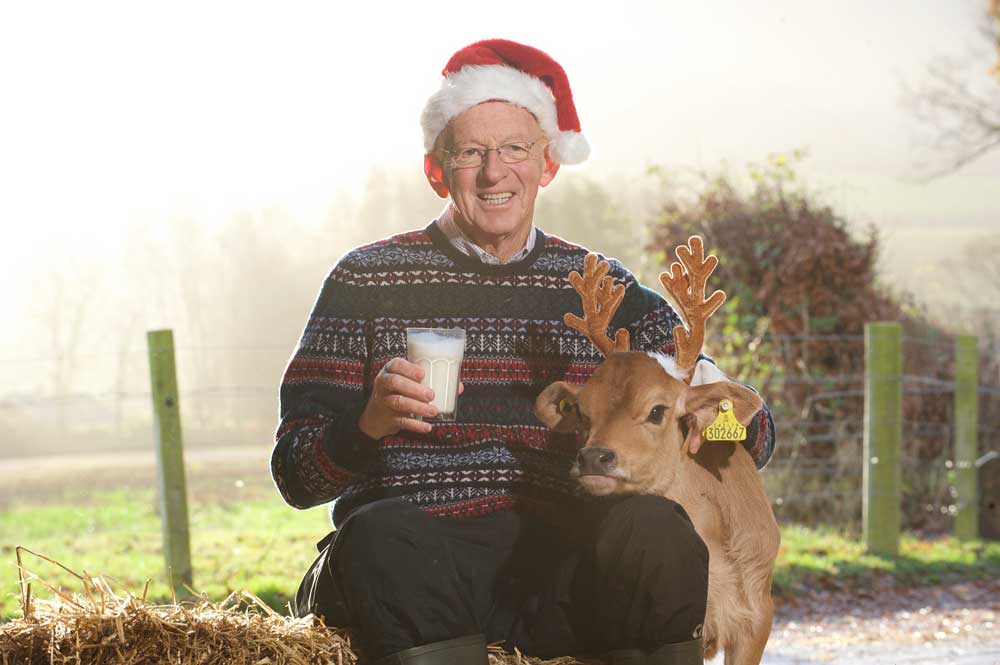 This Christmas, Graham's the Family Dairy launched a festive survey to discover Santa's top Christmas Eve tipple, and the results are in – during a long night of squeezing down chimneys and delivering presents to children, nothing suits Santa better than a nice, refreshing glass of milk.
Over two thirds (67%) of those surveyed will be leaving out the white stuff for Santa in Scotland this Christmas.  20% are planning to offer whisky and 5% will leave spirits or beer for Saint Nick.  40% of those leaving out milk claim that Santa always finishes the whole glass.
To help soak up his post-midnight drink, almost 50% will be leaving a cookie or biscuit, with 35% opting for a festive mince pie, and 1% planning to leave a bacon roll.  2% sprinkle elf dust on the plate.  Rudolph isn't forgotten, with 60% of those surveyed saying they plan to leave out a carrot.
"It was a family tradition in the Graham household to leave a glass of milk out for Santa – we always had plenty – and I'm delighted to see that the tradition is still alive and well in Scotland today," said Carol Graham, Marketing Director for Graham's The Family Dairy.
Whilst it's clear that Santa indulges a little on Christmas Eve, families across Scotland tend to also enjoy more dairy treats during the dark winter months.  Over the festive period, Graham's sees a boost in Christmas sales to rival the busiest toy store in town.
Last year, Graham's range of fresh cream saw a 20% increase in sales in December compared to November; the Graham's Gold range – made from the creamy milk of the Jersey cows – was boosted by 19%; and their range of luxury ice-cream saw over a 30% rise in sales.  Graham's launched their cheddar cheese range in 2013 and last year saw a gigantic 99% increase in sales between November and December.
"Each year, when December rolls round, we see a spike in sales for many of our dairy products and this year won't be any different," commented Carol. "It's great to see that we're not the only ones who allow ourselves that extra little indulgence around this time of year.  We love Christmas and are delighted that so many families across Scotland are bringing a little bit of Graham's to their festive dinner table."
Graham's The Family Dairy is based in the heart of Scotland, producing an award-winning range of the highest quality food and drink, including milk, cheese, cream, butter, ice-cream and yogurt. Established for more than 76 years, Graham's remains a family-run company with a focus on delivering high quality products, exciting new ranges and a quest to promote the best of Scotland's larder throughout the country.
Twitter: @grahamsdairy
www.facebook.com/GrahamsTheFamilyDairy
 Notes to Editor:
Photo shows Dr Robert Graham, Chairman of Graham's The Family Dairy, with six-week-old Jersey calf, Noel, who was born at the Graham's Family Farm in Kippen – where this shot was taken. Photograph by Rob MacDougall.
For further information, please contact Eva Cook or Kirstin Stevenson of Wire Media: eva.cok@wire-media.co.uk/Kirstin@wire-media.co.uk, 0141 440 6761 / 0745 215777 / 07803 970 106.