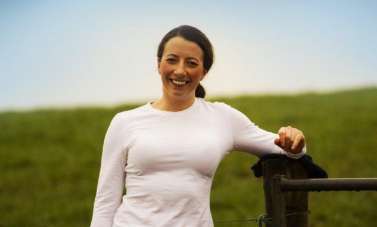 Our #MyGrahamsMoment campaign is to encourage people to share their special moments of personal connection through their love of milk and great tasting dairy products, particularly in these challenging times.
This week, we're talking to farming partner, Sophie Brewster, who gives us a little insight into how she got into dairy farming and what her very own 'Milk Moment' is…
How long have you worked in agriculture?  16+ years
Why did you choose a career in agriculture?  Always enjoyed working with cows, being outside, and love working in the dairy industry.  Very important knowing where our food comes from and how it is produced.
What does your average day look like? Everyday, morning and evening feeding calves and heifers, along with my 2 sidekicks Thomas (3) and Carter (2). We do the 2nd of three milkings at 11am. Other jobs include general youngstock care, foot trimming, drying off and paperwork…
What are the best and worst things about what you do?  Best- working with calves, get very attached and great satisfaction to see them progress through the herd. Worst- working in extremes of weather, too hot or too cold- not fun at all!
What would be your advice to others (females) keen to get into agriculture and farming? Have a plan, be sure to do what you enjoy and get on with it today! I don't believe in gender barriers, surround yourself with the right people, work hard, work smart, be kind and be honest.