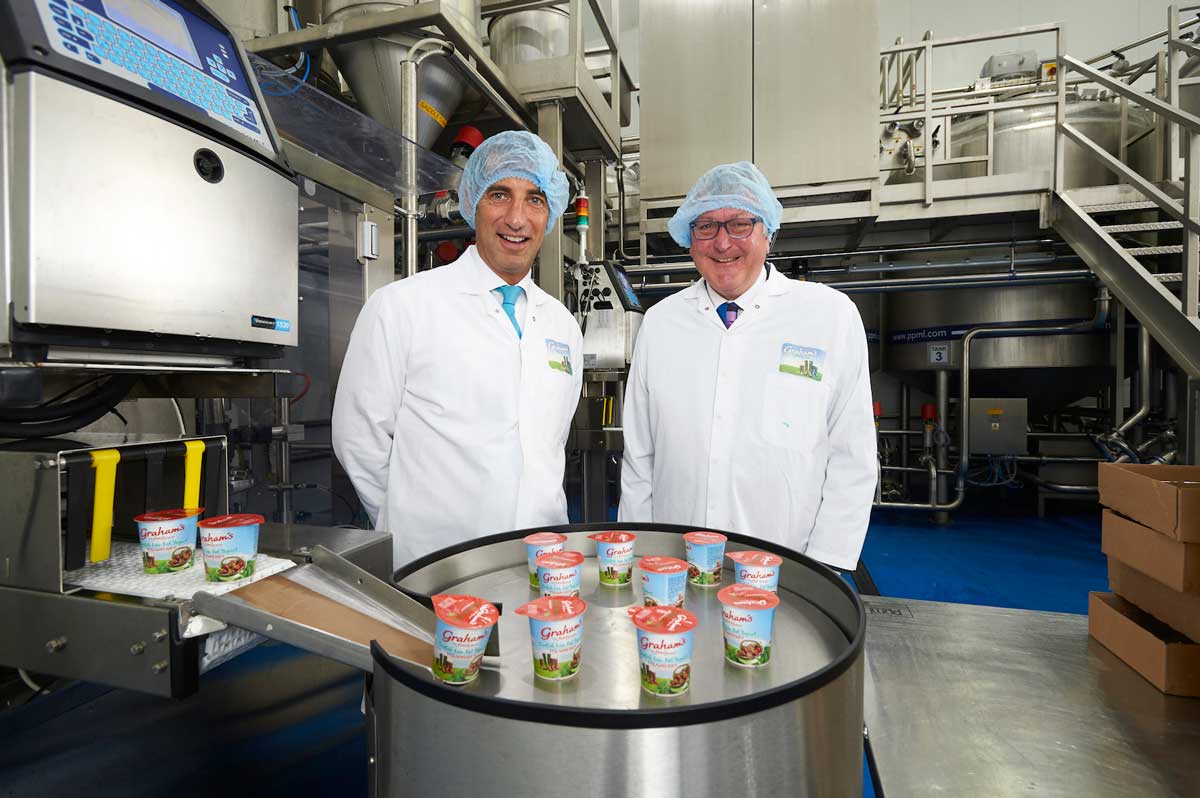 Robert Graham, managing director of Graham's The Family Dairy met with Fergus Ewing, the Minister for Business, Energy and Tourism and MSP representing the constituency of Inverness & Nairn, to show him around the companies processing facility in Nairn.  As well as touring the processing facility, the minister was able to sample Graham's innovative new yogurt range.
The family-owned Scottish farming and dairy business, which supplies home-produced products for more than half the households in Scotland, recently launched a range of six low fat yogurt varieties – Raspberry, Strawberry, Summer Fruits, Peach, Toffee and Natural flavours which are already available in 190 Scotmid stores throughout Scotland.  The new product range delivers on quality, delicious flavour varieties and indulgent taste without the guilt as well as giving customers a homegrown option of Scottish yogurt made using Scottish milk.
There is real growth in the low-fat yogurt sector, which accounts for 26% of the of total dairy spend and Graham's The Family Dairy are focusing on bringing this new product to further retail outlets across Scotland as well as exploring options for export.
The site in Nairn was acquired in 2010 to provide more flexibility in capacity and production capabilities for Scotland's largest independent dairy business.  Graham's employ over 500 staff across Scotland and are committed to further expand and develop through their new proposed dairy build and regularly bringing new products to market.
Robert Graham explained:  "We are delighted that Fergus Ewing took the time to visit our new yogurt facility in Nairn and welcome his on-going interest in our family business since we officially moved into the area five years ago.
"It was always our intention to transform this site to allow more Scottish dairy products to be processed in Scotland and we invested £1million in specialist production facilities to make it happen.  Our investment has been supported by a Food Processing, Marketing and Grant Co-operation (FMPC) grant from the Scottish Government.
"Graham's ambition is to produce more Scottish dairy products in Scotland with Scottish milk from our 98 Scottish dairy farmer partners. Unbelievably the best-selling yogurt brands in Scotland are French and English.  We are confident that our new low-fat yogurt can capture a significant share of that market."
Fergus Ewing MSP said:  "Graham's are one of the premier companies in Scotland's food and drink sector and has been built up by the family over many years.   It is now a leading quality brand.   I am delighted to support the launch of their new yogurt range and that this is being done from their Nairn creamery.  I am sure that they will be popular and will be consuming them myself."
The six new yogurt flavours are now available in Scotmid stores across Scotland in 150g pots with a trial price of 49p (standard RRP 60p) with Natural also available in a 450g pot for RRP £1.40. The range is expected to roll out across other multiples in the coming month.
Graham's grew its sales by 25 per cent in the year to 31 March 2015 to £85m, with its pre-tax profits rising to £1.3m. In March, the company unveiled plans to build a £20m dairy, research centre and training academy in Stirling, which would create 450 jobs including 50 local apprenticeships. Analysts estimate that the 150,000 square-foot facility – which would include production lines for milk, cream, cheese and spreadable butter – would generate an extra £20m GVA each year for Stirling's economy.
In October Graham's will be attending the world's largest food fair Anuga in Cologne to consider export opportunities for yogurts, butters/spreads, ice cream and cheese.  It's the first time the company will attend this leading trade exhibition, which brings together over 6,000 exhibitors from 100 countries.   
Notes to editors:
Graham's products can now be found the length and breadth of the country via more than 6,000 customers from independent retailers to hotels and restaurants as well as all the major multiples in Scotland.  Morrisons, Sainsbury's, Waitrose, Tesco and Asda also stock Graham's branded goods south of the border.
Graham's The Family Dairy recorded sales of more than £85 million in the year to 31 March 2014, up from £68m in the preceding 12 months.
In 1939 when the company was founded by Robert Graham – the grandfather of the current managing director Robert Graham (Jnr) – he reared 12 cows, milked them by hand then made all deliveries by horse and cart.
When founded daily output amounted to 400 pints. The company is now producing more than 700,000 pints on a daily basis.
Graham's The Family Dairy is Scotland's largest independent dairy producing an award winning range of milk, butter, cream, ice cream, cheese and yogurt as well as Graham's Gold Jersey range.
The company has established itself as a top 10 Scottish brand, ranking 7th in the latest Kantar Worldpanel research.