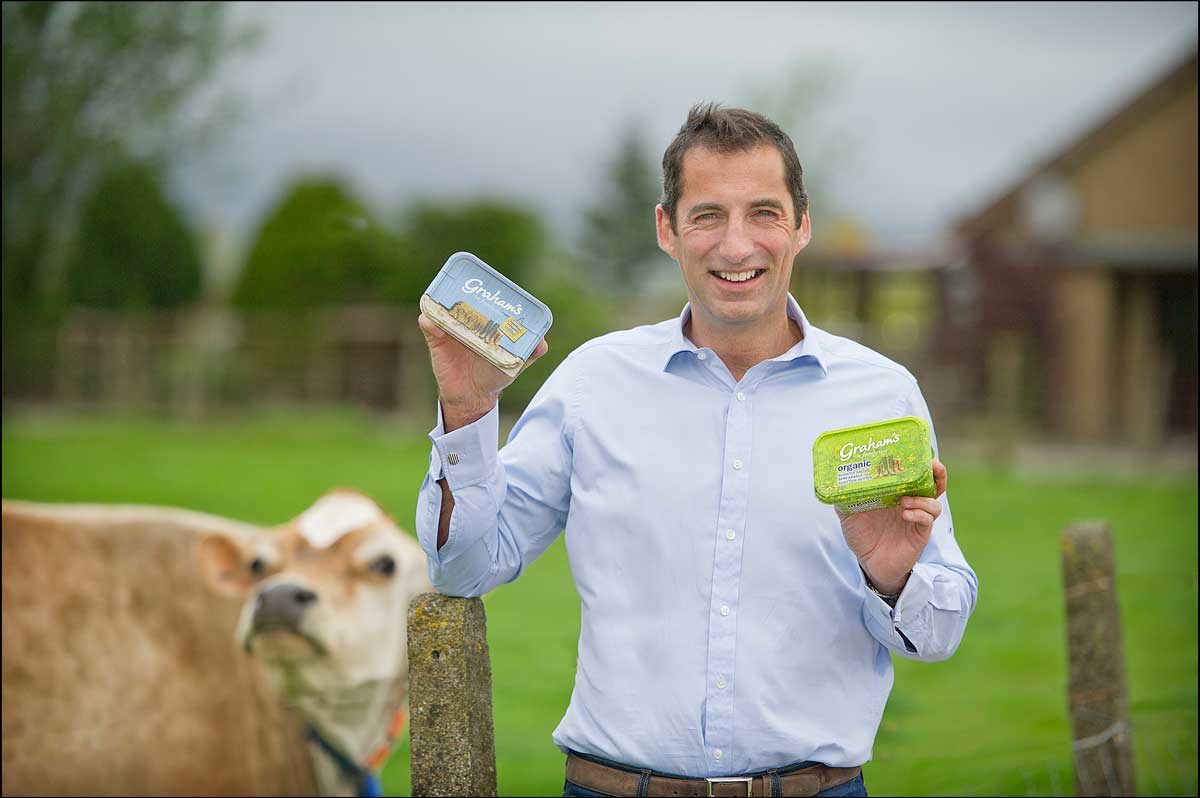 Graham's The Family Dairy is broadening its support for both Scottish farmers and customers with the launch of its Lighter Slightly Salted Spreadable Scottish Butter and Organic Spreadable Scottish Butter.
The family-owned farming and dairy business has invested £1m at its Aithrey Kerse Farm in Bridge of Allan to increase its spreadable butter capacity and capabilities as well as creating more flexibility in its production.  Part of the investment was generated via a Food Processing, Marketing and Grant Co-operation (FMPC) from the Scottish Government.
The Spreadable butter market is a key ingredient within the dairy sector in Scotland accounting for £3 of every £4 spent on butter and has an estimated value of £63m.
The new Lighter and Organic Spreadable butters join Graham's existing Scottish Slightly Salted Spreadable Butter, which went on sale in 2011 and is widely available in retailers including Asda, Lidl, Sainsbury's, Tesco and Waitrose.  It is the only Scottish spreadable butter on the market.
Graham's new 500g Lighter Slightly Salted Spreadable Scottish Butter is now on sale in Tesco, Asda and Sainsbury's in Scotland (RRP £2.80), with Sainsbury's also stocking the new 500g Organic Spreadable (RRP £3.20).
Robert Graham, managing director of Graham's The Family Dairy and grandson of the firm's founder, said: "Spreadables account for 70 per cent of butter sales in Scotland, but a staggering 96 per cent of that spreadable butter isn't made in our country.
"Graham's Spreadable Butter is the only Scottish spreadable and is already the fastest-growing spread on the market, with sales up 76 per cent year-on-year but this is just four per cent of the market share.
"Our focus is growing our presence in retailers across Scotland before we look south of the border, as there is a lot to go at on our home turf.  Looking further ahead, we're also exploring the export market and will be attending the world's largest food fair Anuga in Cologne in October to consider opportunities.
"Butter is a category that performs well and the market will experience continual growth with spreadables.  It's a natural product and we were keen to extend our offering to our retail customers and the Scottish households buying Graham's products."
Robert Graham continued:  "Creating products like this is crucial in helping to give farmers an outlet for their milk.  By launching these products, we're not only boosting our own business but we're also supporting the 98 dairy farmers who we work with throughout the country.
"New research figures show that half of the households in Scotland now buy Graham's products every year.  During 2015, 11 per cent are buying Graham's Spreadable Butter, up from seven per cent in 2014, which proves that demand from our loyal customers is continuing to rise."
Introducing Lighter and Organic Spreadable Butters is the latest development from Graham's The Family Dairy, which has already diversified from milk and cream into a variety of products including butter, cheese and ice cream.
Rural Affairs Secretary Richard Lochhead said:  "This is a very welcome development from Graham's The Family Dairy, a company steeped in heritage that's going from strength to strength with its range of quality produce. It is great to see new products being introduced to the market and it reinforces their commitment to securing the future of the sector – something the Scottish Government very much supports, as set out in our recently-published Scottish Dairy Plan.
"The level of investment Graham's has ploughed into its production at its Airthrey Kerse Farm is impressive and I'm delighted some of the funding came from the Scottish Government's Food Processing, Marketing and Grant Co-operation scheme.
"Graham's is a great Scottish success story and should be applauded for the work they're doing to encourage consumers to support the local dairy sector – incredibly theirs is the only Scottish spreadable butter available on the market. I've no doubt this latest venture will help Graham's cement their reputation as one of Scotland's leading dairy companies and brands."
Graham's grew its sales by 25 per cent in the year to 31 March 2015 to £85m, with its pre-tax profits rising to £1.3m.
In March, the company unveiled plans to build a £20m dairy, research centre and training academy in Stirling, which would create 450 jobs including 50 local apprenticeships.
Analysts estimate that the 150,000 square-foot facility – which would include production lines for milk, cream, cheese and spreadable butter – would generate an extra £20m GVA each year for Stirling's economy.
The proposed site would be in addition to Graham's The Family Dairy's existing operations at Airthrey Kerse in Bridge of Allan, its processing plant in Nairn and its depots throughout Scotland.
Notes to editors:
Graham's products can now be found the length and breadth of the country via more than 6,000 customers from independent retailers to hotels and restaurants as well as all the major multiples in Scotland.  Morrisons, Sainsbury's, Waitrose, Tesco and Asda also stock Graham's branded goods south of the border.
Graham's The Family Dairy recorded sales of more than £85 million in the year to 31 March 2014, up from £68m in the preceding 12 months.
In 1939 when the company was founded by Robert Graham – the grandfather of the current managing director Robert Graham (Jnr) – he reared 12 cows, milked them by hand then made all deliveries by horse and cart
When founded daily output amounted to 400 pints. The company is now producing more than 700,000 pints on a daily basis.
Graham's The Family Dairy is Scotland's largest independent dairy producing an award winning range of milk, butter, cream, ice cream and cheese as well as Graham's Gold Jersey range.
The company has established itself as a top 10 Scottish brand, ranking 7th in the latest Kantar Worldpanel research.