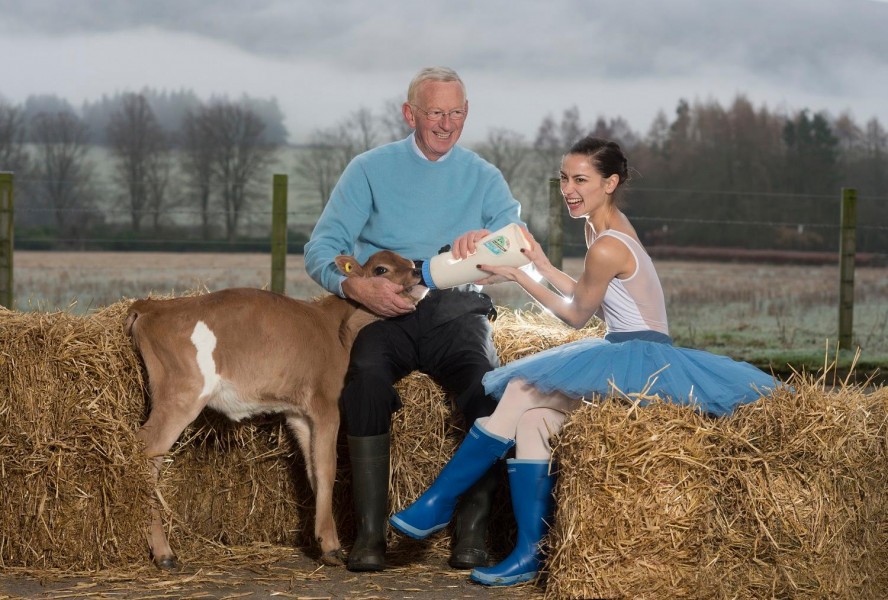 Today, Wednesday 13 January 2016, Graham's The Family Dairy and Scottish Ballet announce the dairy's new role as official health sponsor.  The year-long partnership is the first of its kind for Scottish Ballet and will see Graham's support the activity of the company throughout the year in its own unique way. 
Scottish Ballet Principal dancer, Sophie Martin from Cherbourg in France, visited the Graham's Family Dairy farm in Stirling where she met Dr Robert Graham (Chairman) and Carol Graham (Marketing Director) – as well as some of the farm's newest arrivals, including four month old calf Odette.
Cow's milk offers a rich source of calcium and other nutrients, and is also an excellent source of hydration for the body.  Dancers at Scottish Ballet will be gifted with products from the Graham's range, including milk, yogurts and cheese, to help keep their bodies in peak condition from studio to stage.
The partnership is the latest step in Scottish Ballet's investment in the health and fitness of their dancers and ongoing commitment to dancer welfare.  The Company puts significant effort into injury prevention by giving dancers the support, tools, facilities and skills they need to be in control of their own body conditioning, such a multi-gym facility, therapeutic massage programme and Gyrotonic® equipment and instructors.
Graham's will also work with Scottish Ballet to create a new series of short instructional clips entitled 'Ballet Bites'. With the help of the artistic team, the 90 second videos will guide viewers in a series of exercises designed to increase strength and flexibility. The videos will be live on the Graham's YouTube and social channels early 2016.
Carol Graham, Marketing Director at Graham's The Family Dairy said: "We are delighted to announce our new health partnership with Scottish Ballet.  We're a family business with dairy farming in our blood and we know that the milk that goes into all of our products is packed with calcium and other essential nutrients, which are important to everyone, especially dancer's bodies.  As a family, we are big fans of the ballet, so the opportunity to support them in their preparations for an exciting 2016 was too good to pass up.  We wish them a healthy, successful year and very much look forward to working with them."
Christopher Hampson, CEO / Artistic Director of Scottish Ballet, said: "We are delighted that Graham's The Family Dairy have come on board as Scottish Ballet's health partner. The health, wellbeing and nutrition of our dancers is of primary importance to us and I am thrilled that Graham's will be gifting our dancers products as this will enable them to maintain peak fitness."
Graham's plan to create bespoke treats that can be enjoyed by ballet dancers and audiences alike.
For further information, please contact Wire Media:
Eva Cook eva@wire-media.co.uk, 0207 255 6141 / 07745 215 777
Kirstin Stevenson kirstin@wire-media.co.uk, 0141 648 9615 / 07803 970 106
Scottish Ballet:
Carrie McAdam carrie.mcadam@scottishballet.co.uk, 0141 331 6296
Notes to Editors
Photos show Principal Dancer Sophie Martin, pictured with three year old Jersey cow Dolly and four month old calf Odette, who was born at the Graham's Family Farm in Kippen – where this shot was taken.  Scottish Ballet's Principal Dancer Christopher Harrison, the first Scottish male Principal Dancer in the Company's history, grew up in Kippen.
About Graham's Family Dairy
Graham's The Family Dairy is based in the heart of Scotland, producing an award-winning, home-grown range of the highest quality food and drink, including milk, cheese, cream, butter, ice-cream, cottage cheese, quark, sour cream and yogurt. Established for more than 76 years, Graham's remains a family-run company with a focus on farming, provenance, high quality produce and a quest to promote the best of Scotland's larder throughout the country.
Twitter: @grahamsdairy
Facebook: www.facebook.com/GrahamsTheFamilyDairy
About Scottish Ballet
Founded in 1957, Scottish Ballet is Scotland's National Dance Company with strong classical technique at the root of all its work. This includes new versions of classic titles, as well as seminal modern works from 20th century choreographers, signature pieces by living choreographers, new commissions for revered contemporary choreographers and full-length story ballets re-imagined with fresh relevance for a contemporary audience, creating a unique artistic identity.
In addition to extensive touring activity throughout the UK and abroad, Scottish Ballet provides a comprehensive education and outreach programme for people of all ages and abilities and remains focused on supporting young dancers in training for a career in the industry.
In 2009, Scottish Ballet celebrated its 40th anniversary, and moved to its purpose-built home at the Tramway complex in Glasgow, creating a production and presentation facility of a scale and artistic mix unrivalled in the UK.
Scottish Ballet is currently touring its production of Cinderella, choreographed by CEO / Artistic Director Christopher Hampson. Cinderella will be performed at Theatre Royal, Glasgow until 16 January and will tour to His Majesty's Theatre, Aberdeen from 20 – 23 January and Eden Court, Inverness from 27 – 30 January.
This spring, Scottish Ballet's new version of Swan Lake, choreographed by David Dawson, will receive its world premiere. Swan Lake will be performed in Glasgow, Aberdeen, Inverness, Newcastle, Edinburgh and Liverpool in April and May 2016. This is Scottish Ballet's first new version of Swan Lake in 20 years.
Twitter: @scottishballet
Instagram: scottishballet
www.facebook.com/scottishballethq