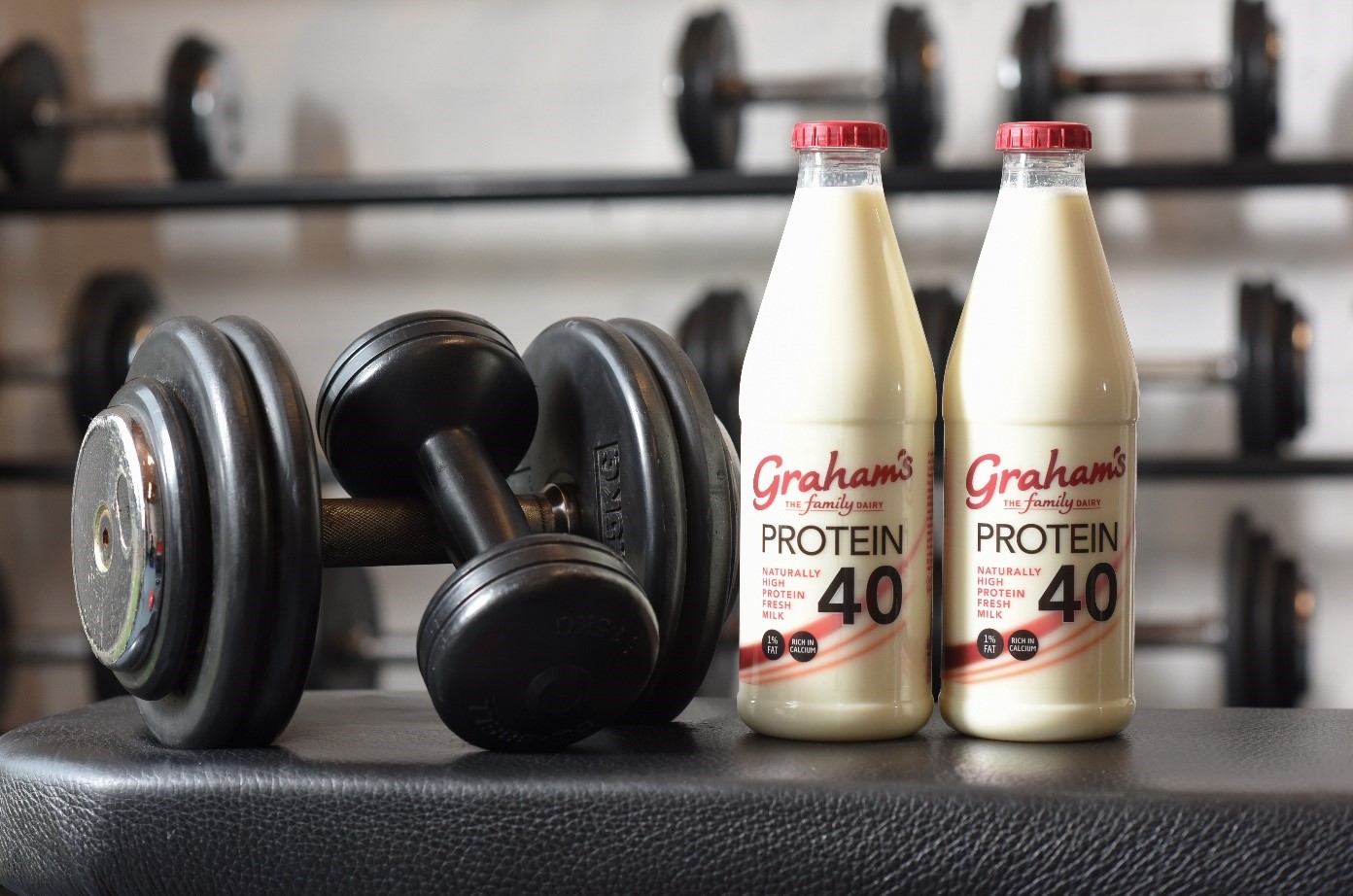 Scotland's number one dairy and food brand, Graham's the Family Dairy, has expanded their protein range with the launch of a naturally high protein, low fat milk. Protein 40 is 100% Jersey milk containing only 1% fat and 40 grams of protein per bottle.
With no additives or preservatives, Protein 40 is a great product for those who prefer a fresh and natural source of protein. It is available now from Sainsbury's stores across the UK.
Great for fitness enthusiasts, athletes, healthy eaters or simply those who want to add more protein to their diet, Protein 40 is a hugely versatile product that can be used as an everyday milk or for a protein boost pre or post workout.
Robert Graham, Managing Director at Graham's the Family Dairy said: "Protein 40 is a fresh and natural product that we wanted to add to our current protein range. With 40 grams of protein in every bottle and only 1% fat, its an easy option for those who want to add extra protein into their day-to-day life or as part of their workout regime.
"High quality, great tasting, local produce has always been at the heart of our range and this is no different. Our protein range which launched in 2017 has been incredibly well received, and we're delighted to be entering the market with another healthy and natural, high protein product.  
Protein 40 will be available in Sainsbury's stores across the UK from today and is the latest addition to Graham's award-winning product line with the dairy continuously investing in new product innovations. The family business has released a range of new high protein products over the past year, including Protein 22 and Skyr.
Based in the heart of Scotland Graham's The Family Dairy are a genuine family business, stretching back 130 years, that produces an award-winning range including Gold, Organic, milk, butter, ice cream, cheese, yoghurt, cream, cottage cheese, soured cream, quark, Protein 22, Skyr and now Protein 40.  Their range is made from the freshest of milk from 100 farming partners across Scotland.
For more information, please contact Emma Roy at Graham's The Family Dairy on 01786 833 206 or email emma.roy@grahamsfamilydairy.com
About Protein 40
Graham's Protein 40 is pure Jersey milk from the Graham's family herd in Stirlingshire, Scotland. It is naturally high in protein with 40g per litre, contains 1% fat and is high in calcium.