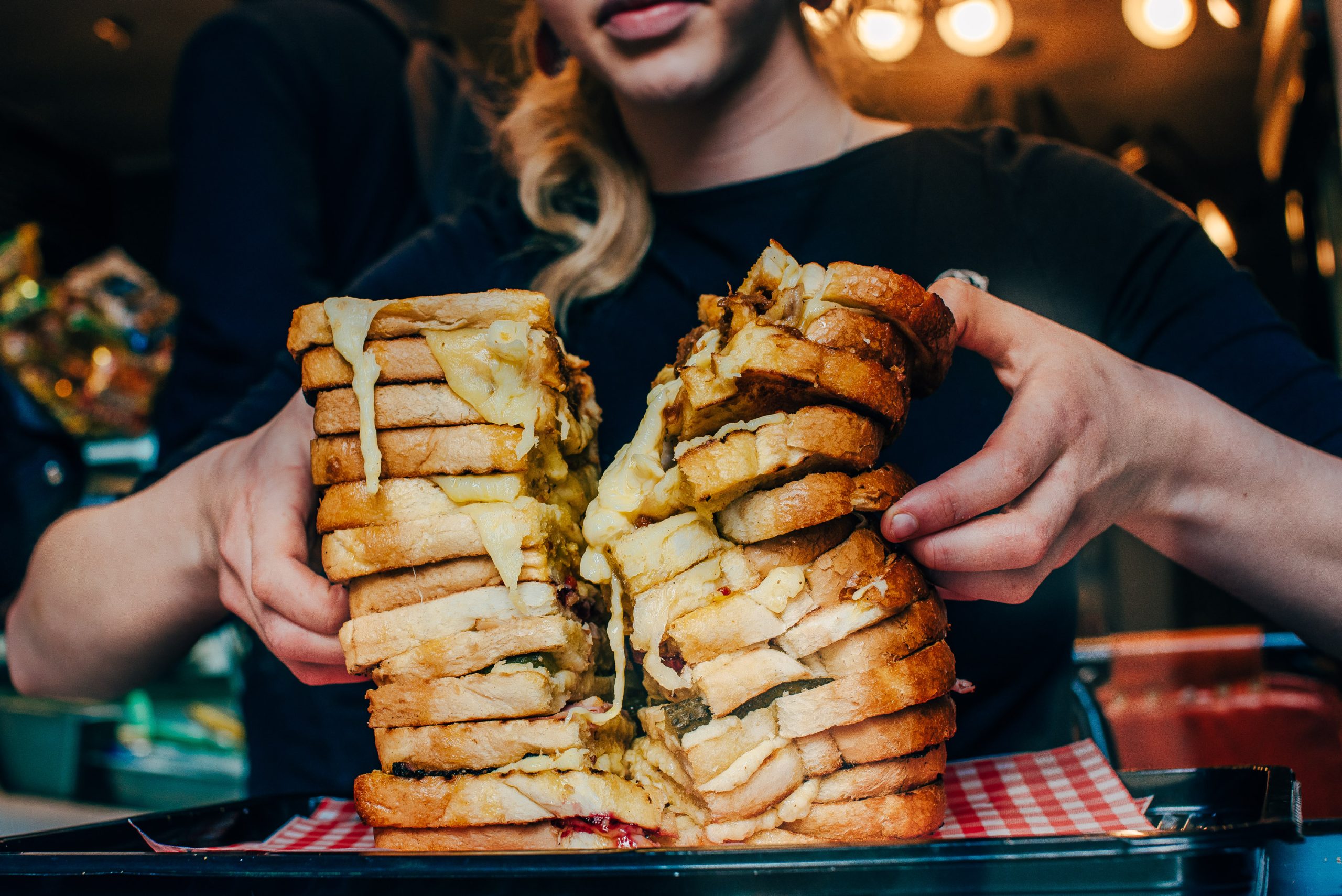 Great things come to those who wait – or rather, grate things come to those who can wait until next Wednesday (12th April). Graham's the Family Dairy has created a monster cheese challenge as part of National Grilled Cheese Sandwich Day and it's coming to a city near you for one day only.
Billed as the 'grill of your dreams', the dish will see eight delicious layers of gooey goodness sandwiched between layers of sourdough and Italian style breads. Inside each tier of Graham's Mild Red, Mature and Extra Mature cheddars a different complementary flavour can be found, from sweet fried onion, to succulent pulled pork.
On the menu at Nic's NYC Deli in Glasgow (396 Byres Road) and Meltmongers in Edinburgh (80 Bruntsfield Place) between 10am and 6pm, the dish is thought to be the biggest grilled cheese sandwich ever made in Scotland – and special rewards are promised to those who can polish it off.
If plates are successfully cleared, stuffed diners will receive an official 'I Conquered The Cheese Stack' filter for their social profiles – and the ten people to finish it off most quickly will also win a year's supply of Graham's the Family Dairy cheese*.
Carol Graham, Marketing Director at Graham's the Family Dairy said: "Whether you prefer to call it grilled cheese, toasted cheese or roasted cheese, next Wednesday is the perfect opportunity to order the ultimate comfort food; hot, melted, buttery cheese – ten whole layers of it. It's time for Scotland's cheese lovers to step up to the challenge."
Nic Sharp, Nic's NYC Deli said: "We were delighted to partner with Graham's the Family Dairy on this cheesy competition. Our customers love a food eating challenge, and what better way to get a 'slice' of the action than on National Grilled Cheese Sandwich day?"
Martin Boyle, Meltmongers said: "As Scotland's first dedicated grilled cheese establishment, our regular customers are fanatical about cheese, so any excuse to eat more they'll happily take. Graham's mature cheddar makes the grate-est grilled sandwiches and we're looking forward to seeing who'll become a champion of the Ultimate Cheese Stack."
The layers of the Graham's Cheese Stack include:
Sweet fried Onions
Bacon
Cranberry sauce
Three cheese
Pickled gerkins
Pulled pork
The Graham's Cheese Stack is priced at £19.95. Tables at Nic's NYC Deli and Meltmongers can be booked by calling 0141 339 7003 and 0131 466 9992 respectively.
For further information, please contact Wire:
Caron Tait – caron@wearewire.co,  0141 648 9610 / 078 2434 41425
Kirstin Stevenson – kirstin@wearewire.co, 0141 648 9615 / 07803 970 106
Notes to Editors
*The year's supply of Graham's the Family Dairy cheese will be won by up to ten people in total; the five fastest people in each restaurant. To be eligible, plates must be finished within a 15 minute period.
About Graham's The Family Dairy
From their family farm in the heart of Scotland, the award-winning business has grown through three generations of dairy farmers to become one of Scotland's greatest food and drink successes, since setting up in Bridge of Allan in 1939.
 
Graham's The Family Dairy is Scotland's largest independent dairy producing an award winning range of milk, butter, cream, ice cream, sour cream, cottage cheese, quark and cheddar cheese as well as Graham's Organic range and Graham's Gold Jersey range. New product, Protein 22, joined the range in 2017.
 
Graham's products are available the length and breadth of the country via more than customers from independent retailers to hotels and restaurants as well as all the major supermarkets in Scotland, and some south of the border.
 
Graham's was named number 1 Scottish food brand, and number 2 Scottish brand overall in the 2016 Kantar WorldView Panel Research. The brand also retained its 2015 title of number 1 dairy brand in Scotland.