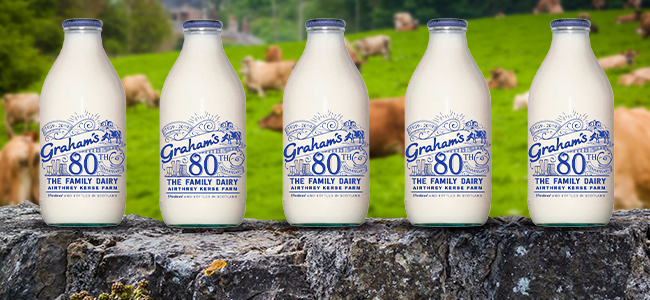 We're 80!
…really?! Can it truly be that our company has reached this ripe old age? We'd demand a recount if we weren't so proud! 
Ever since 1937 the Graham's have been working as a family to bring the world a range of high quality dairy products. So naturally, we were keen to celebrate this milestone (even if it does make us feel a little elderly). The obvious choice seemed to be to do something that would allow us a wee nod to our past and also tie in with the product that we're best known for. 
The bottle
…And so it was done. Our crack team of designers went to work and created our lovely special edition 80th anniversary milk bottles. Complete with blue foil cap, we're very proud of the way they've turned out! You'll notice a few trademark aspects of the dairy on the design; our lovely friesian cows, those trademark wellies and of course a mention of Airthrey Kerse Farm the place we've called home for all these years.
A friendlier approach
Of course, we always encourage our customers to recycle our packaging whenever they can (and always seek to take the most environmentally-conscious measures in our work here at the dairy). And that's the great thing about these bottles – once you've enjoyed the lovely fresh semi-skimmed milk inside, you've got a keepsake that can be cleaned, kept and used for whatever you like! This way, the environment benefits from one less potential piece of rubbish and you've got a new piece of glassware. Win-win!