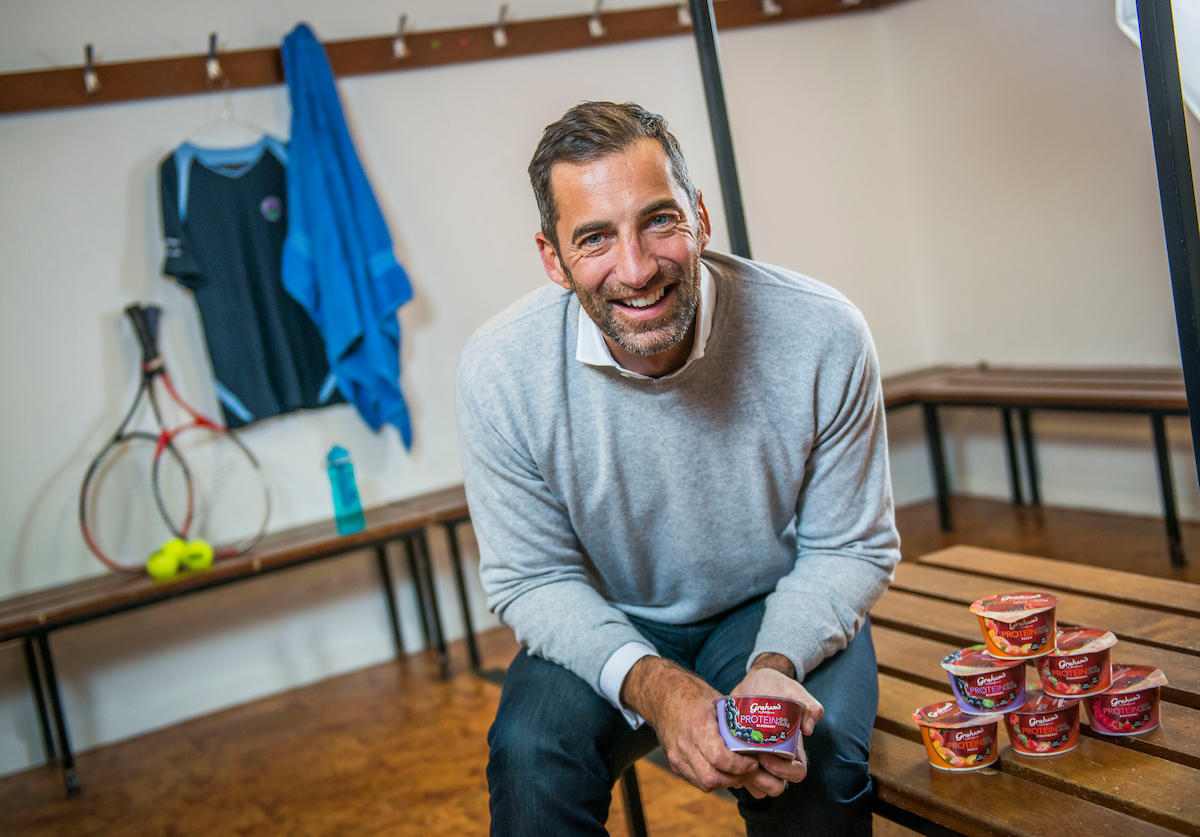 Graham's the Family Dairy is celebrating the new year with the launch of a brand new product to their award winning range.  Available from January, Protein 22 is a smooth and fruity quark, available in four delicious flavours: strawberry, raspberry, peach and blueberry.
With natural fruit flavouring, Protein 22 is thick and creamy, just like a yogurt, making it a great pre or post workout snack, or as part of a healthy meal. It is available now from Scotmid, as of 4th January, Home Bargains from 14th January and in Sainsbury's from 5th March, in stores across Scotland.
Great for fitness enthusiasts, athletes, healthy eaters or simply those want to try something different, Protein 22 is high in protein with 22 grams per pot – higher than similar protein products currently on the market. A fit body starts with a healthy body and the new, naturally fat free, Protein 22 contains no preservatives or additives, in addition to helping to maintain and grow muscle mass.
Protein 22 is the latest addition to Graham's award winning* product line, with the dairy continuously investing in new product innovations. The family business has released a range of new products over the past year, including quark and non-homogenised Organic Whole Milk.
Robert Graham, Managing Director at Graham's The Family Dairy said: "Protein 22 is an exciting new product that we have worked hard to get just right.  With 22 grams of protein in every pot, it's unique in the market – fresh, fruity and delicious.
"Enjoying Protein 22 is a delicious way for people to increase their protein intake, making it the perfect snack for sporty, fit and health conscious people or those looking to eat a healthy, protein rich diet. We're confident that the range of different natural flavours will appeal to all sorts of people, helping even the busiest folk to easily pack an extra protein punch into their day-to-day life.
"High quality, great tasting, local produce has always been at the heart of our range and this is no different. Taste tests have proved that our product is creamier, more fruity and flavourful than competitor protein products. Our research has also shown us that there's a demand for this kind of dairy product amongst consumers and we look forward to hearing feedback on our exciting new range."
Based in the heart of Scotland Graham's The Family Dairy are a genuine family business, stretching back 130 years, that produces an award-winning range including Gold, Organic, milk, butter, ice cream, cheese, yoghurt, cream, cottage cheese, soured cream, quark and now Protein 22.  Their range is made from the freshest of milk from 100 farming partners across Scotland.
For more information, please contact Caroline Docherty at Wire: caroline@wearewire.co / 0141 648 9612
About Protein 22:
100% natural
naturally fat free
high in protein with 22g per pot
low in salt and sugar
helps to maintain and grow muscle mass
creamy without the extra calories
available in strawberry, raspberry, peach and blueberry flavours
Where you can buy Graham's Protein 22
Graham's Protein 22 will be available in a range of stores in Scotland from January 2017:
Scotmid – from 4th Jan
Home Bargains – from 14th Jan
Sainsbury's – from 5th March
Notes to the Editor
About Graham's The Family Dairy
From their family farm in the heart of Scotland, the award-winning business has grown through three generations of dairy farmers to become one of Scotland's greatest food and drink successes, since setting up in Bridge of Allan in 1939.
Graham's The Family Dairy is Scotland's largest independent dairy producing an award winning range of milk, butter, cream, ice cream, sour cream, cottage cheese, quark and cheddar cheese as well as Graham's Organic range and Graham's Gold Jersey range.
Graham's products are available the length and breadth of the country via more than 6,000 customers from independent retailers to hotels and restaurants as well as all the major supermarkets in Scotland, and some south of the border.
Graham's was named number 1 Scottish food brand, and number 2 Scottish brand overall in the 2016 Kantar WorldView Panel Research. The brand also retained its 2015 title of number 1 dairy brand in Scotland.
Graham's recently acquired the Glenfield Dairy site in Fife from First Milk, which has seen the business expand into cottage cheese, quark and sour cream.
Graham's spreadable butter is the fastest growing brand in Scotland (76% up year on year), driving the overall growth of the brand.
More than half of Scotland's population currently buy Graham's products and in 2015, Graham's dairy sales increased to £86.5m (2014: £85m) with pre-tax profit also rising to £1.6m.
*In June 2016, Graham's won the Best Dairy Product Award for their spreadable butter and were crowned Brand Success of the Year at the prestigious Scotland Food and Drink Awards.