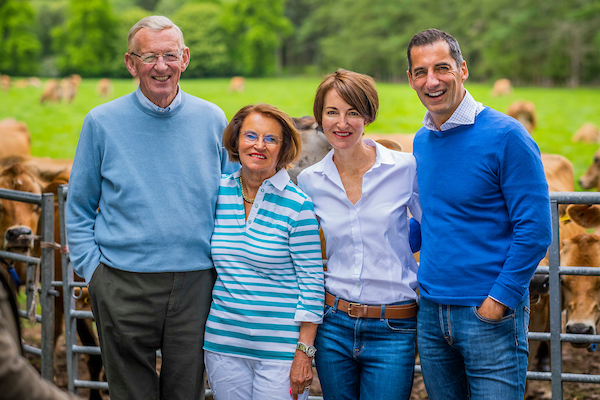 A year of rapid product innovation and further business investment for the Scottish family dairy as they celebrate their 80th year
Graham's The Family Dairy today announces its full year annual results, with notable success driven by continued new product development (NPD) and innovation.  The family-owned business and number one Scottish food brand* based in Bridge of Allan since 1939, has had a positive 80th anniversary year.
An encouraging growth in year-on-year sales, Graham's reports a 4.7% rise in turnover up £4.9m in 2018 to £109.0m this year. Profit before tax at £2.2m, is up from last year and the dairy also reports a strong 2019 EBITDA performance of £4.62m. A clear focus on authentic family brand values and development of brand message, as well as continued business innovation, new product development (NPD) and growth; the dairy business has made a total capex investment of £5.6m this year. As a family business Graham's pride themselves on providing their customers with fresh, top quality and great tasting products, but also being innovative, with NPD being a point of focus to meet and keep up with the fast-paced consumer dairy trends. 
2018 saw the successful launch of Graham's Skyr, a Scandinavian-style cultured dairy product naturally high in protein. Exceeding all sales expectations, to date Skyr is Graham's best performing new product launch and is available across the UK, as well as now being exported to the Republic of Ireland, France and UAE.
Expanding the high protein range, from March this year (2019), Graham's launched their Goodness range, introducing a new low-calorie ice cream and flavoured cottage cheese. The deliciously indulgent ice cream developed for the UK market was in direct response to the low calorie and lower in sugar ice cream currently trending in the United States of America. The customer interest has been unprecedented.
The dairy also added to their already impressive number of stars at the 2019 Great Taste Awards, winning accolades for Goodness Espresso Caramel ice-cream, Goodness Black Cherry Cottage Cheese, Organic Unsalted Butter, Scottish Salted Butter, Organic Whole milk with cream on top and Natural Quark.
Robert Graham, MD at Graham's the Family Dairy, said: "As a third-generation family business, I am very proud to be celebrating the 80th year of the business that was started with twelve cows by my grandparents in 1939 at Airthrey Kerse in Bridge of Allan. 
We pride ourselves, not only on working hard to produce high quality and great tasting products, but also being dynamic and innovative to meet developing consumer trends that are very much aligned to dairy products. It is very important that we continue to grow margins in order to be able to continue to invest into the business and keep up this pace of innovation. 
New product development is a key priority for us to enable us to meet developing consumer trends for great tasting, naturally functional dairy products made with fresh Scottish milk. This clear focus has led to us investing £5.6m in the business this year alone".
*Research by Kantar International WorldPanel 2019.