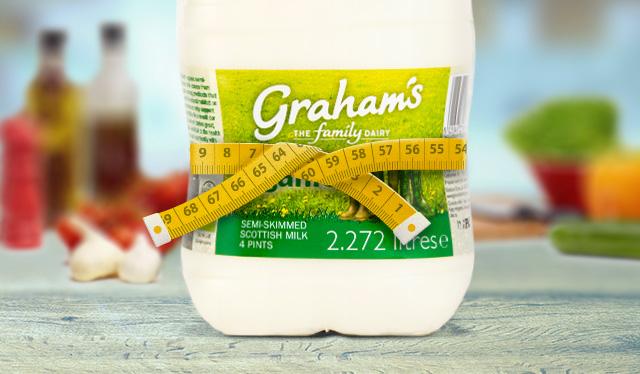 Whole milk, semi-skimmed milk and skimmed milk;  at Graham's we produce all of these as part of our milk range and we understand that sometimes it can be hard to know which is the right choice for you. For people who are trying to watch their figures it can be especially difficult to know, so we thought we'd devote this blog to bringing you a guide to milk nutrition and, more specifically, semi-skimmed milk nutrition.
What is semi-skimmed milk?
Semi-skimmed is the UK's most popular variety of milk, but what actually is it? Well, when we talk about 'whole milk' we're talking about milk that still contains its natural levels of fat. In our regular whole milk this is a minimum level of 3.5% fat. In our regular semi-skimmed milk though, there's just under half of that level, with 1.6g of fat per 100ml.
That's because semi-skimmed milk is produced by skimming off some of the cream from the milk, to lower the overall fat content of it. The knock-on effect of this is also that semi-skimmed milk contains fewer calories than whole milk. Our regular semi-skimmed milk, for example, contains 47 calories per 100ml, compared to 65 calories per 100ml in our regular whole milk.
When it comes to skimmed milk, it's had even more of the cream removed from it to produce a lower fat and calorie level still. Our regular skimmed milk contains 35 calories per 100ml and only 0.1g of fat.
So there's less fat – but what does this mean overall for semi-skimmed milk nutrition?
Although semi-skimmed milk contains less fat than whole milk, that doesn't mean that it's lacking in nutrients. In fact, semi-skimmed milk actually contains slightly more calcium than whole milk. That's because the calcium in milk is found in the watery part of it, rather than in its fat content. So by removing some of the fat, the overall proportion of calcium in the milk is increased. In fact, this means that skimmed milk has a higher proportion still of calcium.
However, the difference in calcium levels between all three types of milk is still very small. It's a similar story with protein, as semi-skimmed and skimmed milk contain a slightly higher proportion of the muscle-building substance than whole milk.
All milk also contains some level of potassium, magnesium and zinc.
What can you do with semi-skimmed milk?
If you're trying to reduce your fat intake but find the leap from whole milk to skimmed milk too much straight then semi-skimmed milk can be a useful compromise. It allows you to reduce your fat intake from teas, coffees, hot chocolates and cooking, without feeling like you're sacrificing too much creamy flavour.
Why choose semi-skimmed milk?
Why should you choose semi-skimmed milk? Well, for many people the answer is simple, it's because they enjoy it. For us, that's the most important thing about working hard to bring you a range of milks for all tastes and all uses. You might be whole milk all the way or you might be a skimmed aficionado, but we think you'd still enjoy a semi-skimmed tipple. So, why not give it a try?