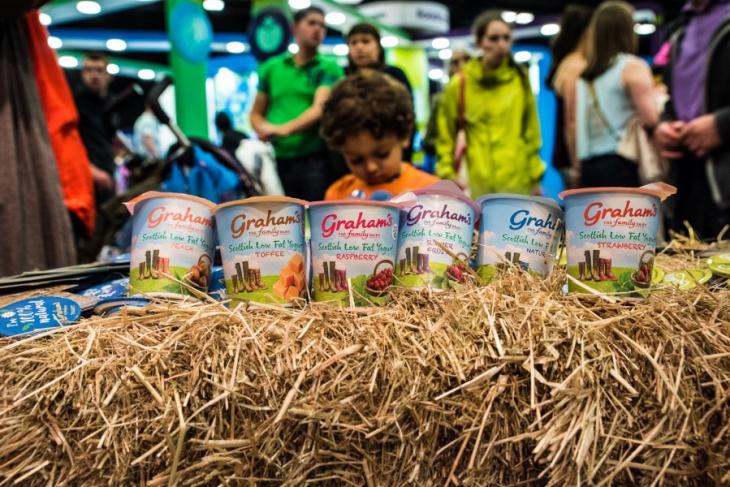 If you live in Scotland you'll no doubt have heard about The Royal Highland Show. It's a huge event that draws around 200,000 visitors every year, all seeking (and finding) the best of farming, food and drink and rural life. It's not just the public that enjoy making the most of all the spoils that feature, it's a prestigious showcase for producers like ourselves. That said, there's a lot more to this annual event than simply eating, drinking and entertainment…
178 years old and still going strong
First starting in 1822, the show was originally held at Edinburgh's Cannongate on the site where the Scottish Parliament now stands! After its debut, the show moved around various towns and cities of Scotland until 1960 when it's permanent home at Ingliston was established and where it has remained ever since. This move to the 280-acre site did wonders for broadening the show's appeal as showcase for Scotland's larder, rural pursuits, entertainment, commerce and business opportunities. Organised by the Royal Highland and Agricultural Society of Scotland this year will mark the 178th show – which really says something about its enduring popularity if you ask us! Some past attendees who you might recognise are Nicola Sturgeon, Princess Anne and the Queen herself.
Graham's role
As a family, we've been attending the show for decades now and we're proud to say that our Graham's stand has been a regular fixture at the Royal Highland Show for some years now. We're even more delighted to be able to say that many of our products have been honoured with multiple awards for quality over those years. Not only does it allow us to know that everything's up to standard in terms of what's leaving the dairy, but we get to offer our customers free samples as well as get their feedback, face to face. It's one of the highlights of our year!
This year
Needless to say, excitement for this year's show is building at the dairy and we're gearing up for another incredible year. Make sure you're following our social profiles where we'll be bringing you competitions (win yourself and the family tickets to the show) and highlights from the show itself (make sure you're following @grahamsthefamilydairy on Instagram for our stories live from Ingliston).
The whole thing kicks off on June 21st and lasts all weekend – really not long to go now!